Welcome to homepage of aerodrome Spilve!
NOTAM - military exercise
Attention! April 9-16 large scale military exercise will take place in the vicinity of Riga with some airspace restrictions. See NOTAM A0250/14, A0251/14, A0252/14, and A0253/14.
Changes in airspace EFF 03APR
From April 3rd there are several changes to the airspace around EVRS:
1) Entry/exit points PARKS (which in fact was never really meant for Spilve) and VISTA are removed
2) A new CTR entry/exit point DOLE introduced instead
3) For entry/exit to Spilve ATZ points on the North and South ends of the Eastern border of the ATZ should be chosen
4) A CTR transit corridor is introduced MAORI-KAGAL along the sea coast, with normal CTR procedures in place (flight plan, ATC clearance), the only bonus is that you do not have to wait until the APPCH 18 is clear to cross the CTR E-W or W-E, have to fly an ALT 500 FT - more info in Latvia AIP
MyAirfields.com
Airfield database created by few Latvian enthusiastic flyers has moved to new location
MyAirfields.com
We strongly suggest pilots to use it for reference!
Aviation Celebration in the Aerodrome Spilve got 65 000 visitors over the weekend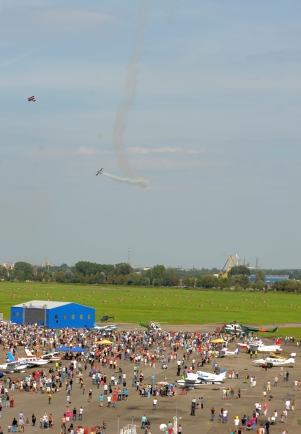 Tie down your aircraft!
Video from Spilve Aviation Celebration 2011
->
AVGAS
Although we are working hard on licensing the fuel station, the process takes a lot. In the vicinity of Riga you have two options:
1) Refuel in Tukums airport (technical landing fee for C172 would be EUR 5,60, preferable 24h PPR, phone +37163119119)
2) Refuel in Riga International Airport, arranging the refueling beforehand with ground handling (+37129233018) and fuel company (+37167207037) so that the process takes no more than 1h (technical landing fee for C172 would be EUR 50, if more than 1h on ground - EUR 80)